My Blog
Posts for: September, 2017
By Paul F Levy, DDS, PC
September 28, 2017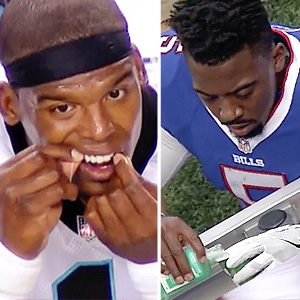 Everyone knows that in the game of football, quarterbacks are looked up to as team leaders. That's why we're so pleased to see some NFL QB's setting great examples of… wait for it… excellent oral hygiene.
First, at the 2016 season opener against the Broncos, Cam Newton of the Carolina Panthers was spotted on the bench; in his hands was a strand of dental floss. In between plays, the 2105 MVP was observed giving his hard-to-reach tooth surfaces a good cleaning with the floss.
Later, Buffalo Bills QB Tyrod Taylor was seen on the sideline of a game against the 49ers — with a bottle of mouthwash. Taylor took a swig, swished it around his mouth for a minute, and spit it out. Was he trying to make his breath fresher in the huddle when he called out plays?
Maybe… but in fact, a good mouthrinse can be much more than a short-lived breath freshener.
Cosmetic rinses can leave your breath with a minty taste or pleasant smell — but the sensation is only temporary. And while there's nothing wrong with having good-smelling breath, using a cosmetic mouthwash doesn't improve your oral hygiene — in fact, it can actually mask odors that may indicate a problem, such as tooth decay or gum disease.
Using a therapeutic mouthrinse, however, can actually enhance your oral health. Many commonly available therapeutic rinses contain anti-cariogenic (cavity-fighting) ingredients, such as fluoride; these can help prevent tooth decay and cavity formation by strengthening tooth enamel. Others contain antibacterial ingredients; these can help control the harmful oral bacteria found in plaque — the sticky film that can build up on your teeth in between cleanings. Some antibacterial mouthrinses are available over-the-counter, while others are prescription-only. When used along with brushing and flossing, they can reduce gum disease (gingivitis) and promote good oral health.
So why did Taylor rinse? His coach Rex Ryan later explained that he was cleaning out his mouth after a hard hit, which may have caused some bleeding. Ryan also noted, "He [Taylor] does have the best smelling breath in the league for any quarterback." The coach didn't explain how he knows that — but never mind. The takeaway is that a cosmetic rinse may be OK for a quick fix — but when it comes to good oral hygiene, using a therapeutic mouthrinse as a part of your daily routine (along with flossing and brushing) can really step up your game.
If you would like more information about mouthrinses and oral hygiene, contact us or schedule a consultation.
By Paul F Levy, DDS, PC
September 13, 2017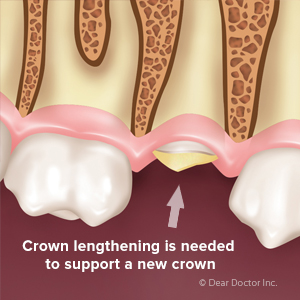 A crown — a life-like "cap" made of dental porcelain that permanently covers an existing tooth — is an effective way to restore a still-viable decayed or broken tooth's appearance. Properly fitting the crown over the tooth requires some healthy tooth structure above the gum line.
But what if the tooth has broken down to the gum line? In this case, we would need to perform a common procedure known as crown lengthening to expose more of the tooth.
Crown lengthening is a minor surgical procedure performed with local anesthesia to numb the tooth, surrounding gum tissues and supporting bone. We first make tiny incisions inside the gum-line on both the cheek and tongue side of the tooth to expose the bone, and then carefully remove a small amount of bone from either side of the tooth; this will expose or "lengthen" the tooth. Once finished, we suture the gum tissue back into place with self-dissolving sutures against the bone and tooth.
Most procedures take only sixty to ninety minutes, and the mild discomfort afterward is usually managed with pain relievers like ibuprofen. While the gum tissues may appear to be healed after a week, we typically wait six to eight weeks to perform the final crown restoration to give the tissues time to fully mature.
Crown lengthening may not work in all situations, especially with a severely fractured tooth. In these cases, we may need to evaluate the long-term viability of the tooth and consider other restorative options. Depending on your bite, it may also be necessary to treat with orthodontics first: not only will the tooth move into a better position, but the treatment may move both the gum and bone down with the tooth. Subsequent crown lengthening will then only affect the intended tooth and not adjacent ones, resulting in a more even smile.
The first step is for us to decide after a thorough examination if you would benefit from crown lengthening. If so, this minor surgical procedure could pave the way for better mouth function and a more attractive smile.
If you would like more information on crown restorations, please contact us or schedule an appointment for a consultation.