My Blog
Posts for: January, 2018
By Paul F Levy, DDS, PC
January 19, 2018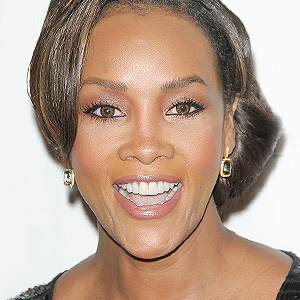 Is having good oral hygiene important to kissing? Who's better to answer that question than Vivica A. Fox? Among her other achievements, the versatile actress won the "Best Kiss" honor at the MTV Movie Awards, for a memorable scene with Will Smith in the 1996 blockbuster Independence Day. When Dear Doctor magazine asked her, Ms. Fox said that proper oral hygiene was indeed essential. Actually, she said:
"Ooooh, yes, yes, yes, Honey, 'cause Baby, if you kiss somebody with a dragon mouth, my God, it's the worst experience ever as an actor to try to act like you enjoy it!"
And even if you're not on stage, it's no fun to kiss someone whose oral hygiene isn't what it should be. So what's the best way to step up your game? Here's how Vivica does it:
"I visit my dentist every three months and get my teeth cleaned, I floss, I brush, I just spent two hundred bucks on an electronic toothbrush — I'm into dental hygiene for sure."
Well, we might add that you don't need to spend tons of money on a toothbrush — after all, it's not the brush that keeps your mouth healthy, but the hand that holds it. And not everyone needs to come in as often every three months. But her tips are generally right on.
For proper at-home oral care, nothing beats brushing twice a day for two minutes each time, and flossing once a day. Brushing removes the sticky, bacteria-laden plaque that clings to your teeth and causes tooth decay and gum disease — not to mention malodorous breath. Don't forget to brush your tongue as well — it can also harbor those bad-breath bacteria.
While brushing is effective, it can't reach the tiny spaces in between teeth and under gums where plaque bacteria can hide. But floss can: That's what makes it so important to getting your mouth really clean.
Finally, regular professional checkups and cleanings are an essential part of good oral hygiene. Why? Because even the most dutiful brushing and flossing can't remove the hardened coating called tartar that eventually forms on tooth surfaces. Only a trained health care provider with the right dental tools can! And when you come in for a routine office visit, you'll also get a thorough checkup that can detect tooth decay, gum disease, and other threats to your oral health.
Bad breath isn't just a turn-off for kissing — It can indicate a possible problem in your mouth. So listen to what award-winning kisser Vivica Fox says: Paying attention to your oral hygiene can really pay off! For more information, contact us or schedule an appointment for a consultation. You can read the entire interview with Vivica A. Fox in Dear Doctor's latest issue.
By Paul F Levy, DDS, PC
January 04, 2018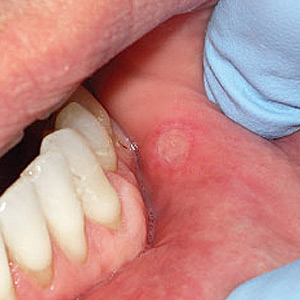 If you occasionally experience small sores in the softer tissues of your mouth, you may have aphthous ulcers or better known as canker sores. While rarely a health concern, they can be painful and annoying particularly when you're eating and drinking.
These breaks in the skin or mucosa (the lining membranes of the mouth) usually occur in the thinner tissues found in the cheeks, lips, under the tongue or in the back of the throat. They tend to be most painful (especially while eating acidic foods like citrus or tomato sauce) between the first few hours of appearing and for a couple of days afterward, and will often occur during periods of anxiety, stress or after a minor injury. The sores will normally heal and fade within a couple of weeks.
Although occasional outbreaks of canker sores are quite common with most people, 20-25% of people (more often women) have a recurring form of painful outbreak known as recurrent aphthous stomatitis (RAS). Another variation called herpetiform aphthae, similar in appearance to herpes simplex virus sores, is characterized by smaller clusters of ulcers. While the specific causes for canker sores are still unclear, there's some correlation between them and abnormalities with a person's immune system, as well as with other systemic conditions like gastrointestinal disorders or vitamin deficiencies.
The basic treatment for canker sores is to first soothe the pain and promote quicker healing. Many over-the-counter medications are available for mild cases that numb the area temporarily and provide a protective covering while the sore heals. For more severe cases, there are also prescription medications (like steroids) that can be applied topically or through injection.
While canker sores are not contagious and usually benign, there are some situations that call for a dental examination: sores that haven't healed within 2 weeks; increasing occurrences and severity of the sores; and never being completely free of a sore in the mouth. These may indicate some other condition, or be an occurrence of cancer or a pre-cancerous condition.
If you have any concerns, be sure to schedule a visit. We'll be glad to evaluate any occurrence of the sores and recommend the best course of treatment to ease the pain and annoyance.
If you would like more information on canker sores or other types of mouth ulcers, please contact us or schedule an appointment for a consultation. You can also learn more about this topic by reading the Dear Doctor magazine article "Mouth Sores."