My Blog
Posts for: September, 2020
By Paul F Levy, DDS, PC
September 19, 2020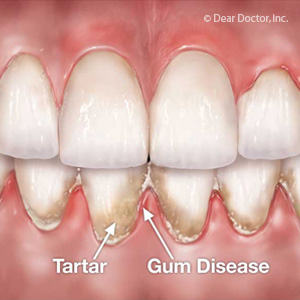 Your smile isn't the same without healthy gums—neither are your teeth, for that matter. So, maintaining your gums by protecting them from periodontal (gum) disease is a top priority.
Gum disease is caused by bacterial plaque, a thin biofilm that collects on teeth and is not removed due to poor oral hygiene practices. Infected gums become chronically inflamed and begin to weaken, ultimately losing their firm attachment to the teeth. This can result in increasing voids called periodontal pockets that fill with infection. The gums can also shrink back (recede), exposing the tooth roots to further infection.
Although gum disease treatment techniques vary, the overall goal is the same: remove the bacterial plaque fueling the infection. This most often involves a procedure called scaling with special hand instruments to manually remove plaque and calculus (tartar). If the infection has spread below the gum line we may need to use a procedure called root planing in which we scrape or "plane" plaque and calculus from the root surfaces.
As we remove plaque, the gums become less inflamed. As the inflammation subsides we often discover more plaque and calculus, requiring more treatment sessions. Hopefully, our efforts bring the disease under control and restorative healing to the gums.
But while gum tissue can regenerate on its own, it may need some assistance if the recession was severe. This assistance can be provided through surgical procedures that graft donor tissues to the recession site. There are a number of microsurgical approaches that are all quite intricate to perform, and will usually require a periodontist (a specialist in gum structures) to achieve the most functional and attractive result.
While we have the advanced techniques and equipment to treat and repair gum disease damage, the best approach is to try to prevent the disease from occurring at all. Prevention begins with daily brushing and flossing, and continues with regular dental cleanings and checkups.
And if you do notice potential signs of gum disease like swollen, reddened or bleeding gums, call us promptly for an examination. The sooner we diagnose and begin treatment the less damage this progressive disease can do to your gums—and your smile.
If you would like more information on protecting your gums, please contact us or schedule an appointment for a consultation. You can also learn more about this topic by reading the Dear Doctor article "Periodontal Plastic Surgery."
By Paul F Levy, DDS, PC
September 09, 2020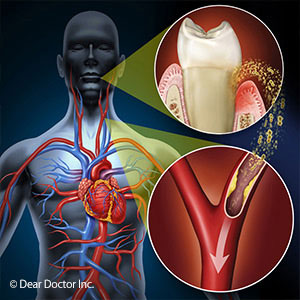 A disease happening in one part of your body doesn't necessarily stay there. Even a localized infection could eventually affect your general health. Periodontal (gum) disease, a bacterial infection that damages gums, teeth and supporting bone, is a case in point.
There's now growing evidence that gum disease shares links with some other serious systemic diseases. Here are 4 serious health conditions and how gum disease could affect them.
Diabetes. Gum disease could make managing diabetes more difficult—and vice-versa. Chronic inflammation occurs in both conditions, which can then aggravate the other. Diabetics must deal with higher than normal glucose levels, which can also feed oral bacteria and worsen existing gum disease. On the plus side, though, effectively managing both conditions can lessen each one's health impact.
Heart disease. Gum disease can worsen an existing heart condition and increase the risk of stroke. Researchers have found evidence that chronic inflammation from gum disease could further damage already weakened blood vessels and increase blood clot risks. Treating gum disease aggressively, on the other hand, could lower blood pressure as much as 13 points.
Rheumatoid Arthritis. The increased inflammatory response that accompanies arthritis (and other diseases like lupus or inflammatory bowel disease) can contribute to a higher risk for gum disease. As with the other conditions previously mentioned, chronic inflammation from a gum infection can also aggravate arthritis symptoms. Treating any form of chronic inflammation can ease symptoms in both arthritis and gum disease.
Alzheimer's disease. The links of Alzheimer's disease to gum disease are in the numbers: a recent study found people over 70 who've had gum disease for ten or more years were 70% more likely to develop dementia than those with healthy gums. There is also evidence that individuals with both Alzheimer's and gum disease tended to decline more rapidly than those without gum disease.
From the accumulating evidence, researchers now view gum disease as more than an oral problem—it could impact your total health. That's why you should adopt a disease prevention strategy with daily brushing and flossing and regular dental visits (or whenever you notice puffy, reddened or bleeding gums). Stopping gum disease could provide you a health benefit well beyond preserving your teeth and gums.
If you would like more information on treating gum disease, please contact us or schedule an appointment for a consultation.