My Blog
Posts for tag: dental cleaning
By Paul F Levy, DDS, PC
November 04, 2019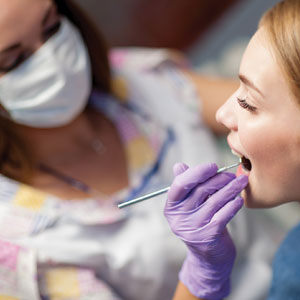 If you've undergone treatment for periodontal (gum) disease, you know how involved it can be. After several sessions of plaque and calculus (hardened plaque deposits) removal, your swollen, red gums finally begin to regain their healthy pink color.
But with gum disease, the battle may be over but not necessarily the war. If we don't remain vigilant, there's a high chance you'll experience a re-infection.
That's why periodontal maintenance (PM) is so important for gum disease patients after treatment. Plaque, the thin film of bacteria and food particles responsible for the infection, can grow again on your tooth surfaces as it did before. You'll have to practice diligent, daily brushing and flossing to curb that development.
But it's also important to keep up regular dental visits for advanced cleaning to remove hard to reach plaque and calculus. For most people that's usually twice a year, but for gum disease patients it could be up to four times a year, especially just after treatment. And there's more to these visits than cleaning.
Since our goal is to reduce the chances of re-infection as much as possible, we'll thoroughly examine your teeth, gums and any implants for signs of disease (we'll also include an oral cancer screening). We want to assess the health of your teeth and gums and to see how well you're doing hygiene-wise with plaque control.
If we find signs of gum disease, we'll discuss this with you and schedule a new round of treatment. The sooner we initiate treatment, the better your outcome. In some cases, we may perform procedures that make it easier to access and clean areas where plaque tends to build up.
Overall, we want to prevent the occurrence of any future disease and treat it as soon as possible if it re-occurs. Keeping up diligent PM will help ensure your gums continue to stay healthy.
If you would like more information on after care following periodontal (gum) disease, please contact us or schedule an appointment for a consultation.
By Paul F Levy, DDS, PC
August 16, 2019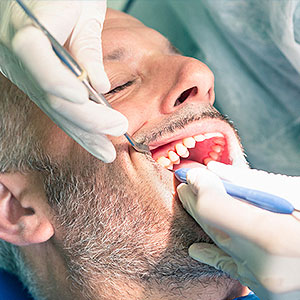 One of the key parts to an effective oral disease prevention plan is practicing daily oral hygiene to remove dental plaque. Both brushing and flossing are necessary for cleaning your teeth of this thin biofilm of bacteria and food particles most responsible for tooth decay and periodontal (gum) disease.
But as important as they are, these two essential hygiene tasks aren't the end-all-be-all for lowering your disease risk. For the best protection, you should also visit your dentist at least twice a year for thorough dental cleanings. That's because plaque you might have missed can turn into something much more difficult to remove: calculus.
Also known as tartar, calculus is hardened deposits of plaque. The term comes from the Latin word meaning "small stone," an apt description of its texture on tooth surfaces. Although not the same as the branch of mathematics that bears the same name, both derive from the same Latin word: Merchants and traders centuries ago used small stones to "calculate" their various transactions.
Over time soft and pliable dental plaque hardens into calculus, in part due to a reaction with saliva. Because of the difficulty of accessing all tooth surfaces, calculus can form even if you have an effective daily hygiene practice.
Once formed, calculus can adhere to teeth so tenaciously, it's impossible to remove it with brushing and flossing. But dentists and hygienists can remove calculus safely with special tools called scalers.
And it should be removed or it will continue to foster bacterial growth. This in turn increases the chances for infections that attack the teeth, gums or underlying bone. Keeping it under control will therefore diminish your risk for developing dental disease.
Although there are other factors like heredity that can affect your disease risk, keeping your mouth clean is the number one thing you can do to protect your teeth and gums. A daily hygiene practice and regular dental visits will help ensure plaque and its calcified form calculus won't be a problem.
If you would like more information on preventive dental care, please contact us or schedule an appointment for a consultation.