My Blog
Posts for tag: periodontal surgery
By Paul F Levy, DDS, PC
September 19, 2020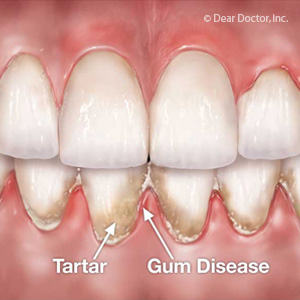 Your smile isn't the same without healthy gums—neither are your teeth, for that matter. So, maintaining your gums by protecting them from periodontal (gum) disease is a top priority.
Gum disease is caused by bacterial plaque, a thin biofilm that collects on teeth and is not removed due to poor oral hygiene practices. Infected gums become chronically inflamed and begin to weaken, ultimately losing their firm attachment to the teeth. This can result in increasing voids called periodontal pockets that fill with infection. The gums can also shrink back (recede), exposing the tooth roots to further infection.
Although gum disease treatment techniques vary, the overall goal is the same: remove the bacterial plaque fueling the infection. This most often involves a procedure called scaling with special hand instruments to manually remove plaque and calculus (tartar). If the infection has spread below the gum line we may need to use a procedure called root planing in which we scrape or "plane" plaque and calculus from the root surfaces.
As we remove plaque, the gums become less inflamed. As the inflammation subsides we often discover more plaque and calculus, requiring more treatment sessions. Hopefully, our efforts bring the disease under control and restorative healing to the gums.
But while gum tissue can regenerate on its own, it may need some assistance if the recession was severe. This assistance can be provided through surgical procedures that graft donor tissues to the recession site. There are a number of microsurgical approaches that are all quite intricate to perform, and will usually require a periodontist (a specialist in gum structures) to achieve the most functional and attractive result.
While we have the advanced techniques and equipment to treat and repair gum disease damage, the best approach is to try to prevent the disease from occurring at all. Prevention begins with daily brushing and flossing, and continues with regular dental cleanings and checkups.
And if you do notice potential signs of gum disease like swollen, reddened or bleeding gums, call us promptly for an examination. The sooner we diagnose and begin treatment the less damage this progressive disease can do to your gums—and your smile.
If you would like more information on protecting your gums, please contact us or schedule an appointment for a consultation. You can also learn more about this topic by reading the Dear Doctor article "Periodontal Plastic Surgery."
By Paul F Levy, DDS, PC
January 23, 2020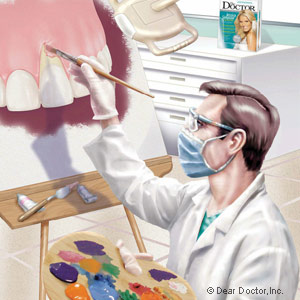 There's only one way to effectively halt the progressive damage of periodontal (gum) disease — completely remove the bacterial plaque and hardened deposits (calculus) from above and below the gum line that are causing the infection. Although we can accomplish this in most cases with hand instruments called scalers, ultra-sonic equipment or both, some cases may require periodontal surgery to access and clean deeper "pockets" of infection.
As this damaging disease progresses, the supporting bone dissolves and the gum tissues will begin to detach from a tooth, leaving an open space known as a "periodontal pocket." Besides plaque and calculus pus may also form as a result of the infection. All of this material must be removed from the pocket before healing and, hopefully, tissue reattachment can begin.
Shallow pockets near the gum line are usually accessed and cleaned with hand instruments. But deeper pockets (5 millimeters or greater in depth) may require a surgical procedure to completely clean the area also allowing for regenerative procedures to be done to regain attachment. This will reduce the depth of the periodontal pockets that will make them more accessible for future cleanings and maintenance. Flap surgery is a common type of such a procedure: a small opening (similar to the flap of a letter envelope) is surgically created in the gum tissue to expose the area of infection around the tooth root and bone.
There are also other types of periodontal surgery for repairing and stimulating regeneration of damaged gum tissues. Using grafts or other enhancements, these plastic surgical techniques are especially useful where gum tissues have receded above the natural gum line, leaving more of the underlying tooth below the enamel exposed to disease. These procedures have become more effective in recent years with the development of specialized technologies called "barrier membranes" and biologic growth factors. These materials have allowed bone grafts to be more successful as this technology is engineered for targeted tissue growth and repair, and then dissolve at an appropriate point in the regeneration process.
Periodontal surgery isn't appropriate for every situation. Still, these procedures do play an important role for many patients to put a halt to the damage caused by gum disease.
If you would like more information on surgical procedures for gum disease, please contact us or schedule an appointment for a consultation. You can also learn more about this topic by reading the Dear Doctor magazine article "Periodontal Surgery: Where Art Meets Science."
By Paul F Levy, DDS, PC
June 22, 2017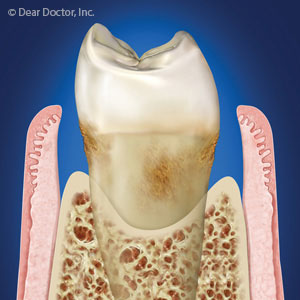 All treatments for periodontal (gum) disease focus on one goal — to remove any bacterial plaque and calculus (hardened plaque deposits) that are at the heart of the infection. Plaque is a thin surface film of food particles and bacteria that cause gum disease.
Plaque builds up on tooth surfaces due to inadequate oral hygiene. And as the disease progresses brushing and flossing won't be enough — you'll need our services and specialized equipment to fully remove the plaque and calculus. The basic technique is called scaling in which we remove plaque and calculus manually from tooth surfaces above and just a few millimeters below the gum line.
As the disease develops, though, the slight natural gap between teeth and gums may begin to increase to form voids known as periodontal pockets. Filled with infection, these pockets can extend below the gum line onto the roots of the tooth. If the pocket extends more than 4 millimeters, basic scaling may not be able to remove all of the plaque and calculus.
Periodontists (dentists who specialize in the treatment and care of gum tissues) can perform a surgical method to access these deeper areas. Known as flap surgery, this procedure aims not only to reach and disinfect periodontal pockets and root surfaces, but also repair damaged gum tissue and create a better environment for future hygiene and treatment.
As the name implies, we create an opening in the gum tissue with one side remaining attached to the gum structure — much like the flap of a paper envelope. Through this opening we're able to reach areas to remove plaque and calculus, as well as install both bone grafts to regenerate lost bone and growth factors to stimulate tissue growth. Once finished, we stitch the flap back into place with sutures and, in many cases, place a moldable dressing to protect and hold the flap secure while the incision heals.
This relatively minor procedure can be performed with local anesthesia and requires only a few days of recuperation. The results, though, can provide long-term benefits — reduced infection, better bone and gum health, and a more conducive environment for future maintenance of health — that could save your teeth and your smile for many years to come.
If you would like more information on treatments for gum disease, please contact us or schedule an appointment for a consultation. You can also learn more about this topic by reading the Dear Doctor magazine article "Periodontal Flap Surgery."